Making air fryer breakfast bombs will now be an easy task for you with these two simple recipes that will add variety to your list of breakfast meals. If you love your breakfast meals to have a splash of eggs, fish, or bacon, then these recipes are a gem for you.
These family recipes will leave your loved ones asking for more and looking forward to fulfilling breakfasts. They will love the air fryer bombs for the minimal use of oil, which means they are safe for consumption as they have less saturated fats.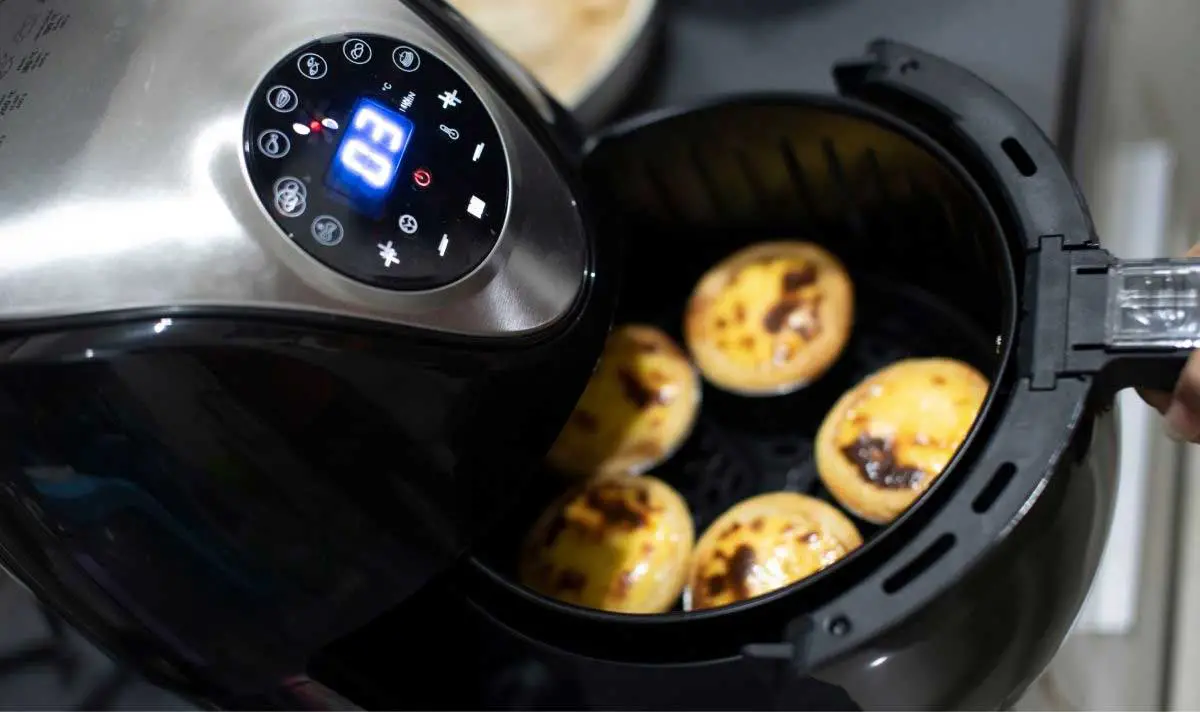 1. Air Fryer Egg and Bacon Breakfast Biscuit Bombs
The main ingredients for this recipe are eggs and bacon. With a total of only 8 ingredients, this is a simple recipe suitable for 6-8 servings.
Recipe for air fryer egg and bacon breakfast biscuit bombs
Ingredients
Egg Wash
Biscuit Bombs
2 beaten eggs
4 slices of bacon cut into 1/2-inch pieces
1/4 teaspoon pepper
1 tablespoon butter
2 oz sharp cheddar cheese cut into ten 3/4-inch cubes
1 can 10.2 oz refrigerated buttermilk biscuits – 5 biscuits
Instructions
Cut two pieces of cooking parchment paper, 8 inches round. Put one of the rounds into the bottom of the air fryer. Sprinkle some cooking oil over it.
Cook the bacon in a nonstick skillet over medium-high heat to crispness. Remove the cooked bacon from the pan and place on a paper towel. Wipe the skillet using a paper towel. Add butter to the skillet and melt it over medium heat. Add the two beaten eggs and pepper to the skillet. Cook until the eggs get thick while still maintaining their moisture. Remove from the heat and stir together with bacon. Leave the mix to cool for about six minutes.
Separate the dough into five biscuits with each biscuit having two layers. Press each of these into 4-inch rounds. Place one tablespoonful of the egg-bacon mixture onto each round at the center. Add one cheese piece on top. Carefully fold the edges of the biscuit up to cover the fillings. Seal by pinching.
Beat the third egg in water in a small bowl. Brush the sealed biscuits on every side with the egg wash.
Put 5 of the biscuit bombs with the seal sides facing down onto the parchment paper on the air fryer basket. Sprinkle the second round of parchment with a little oil on both sides. Place the parchment on top of the first 5 biscuits and put the remaining biscuits on top of it.
Set your air fryer to 375° Fahrenheit and cook for 8 minutes. Remove the top parchment and use tongs to turn the biscuits. At this point, place them in the basket in only one layer and cook for an extra 4-6 minutes at about 165° Fahrenheit until fully cooked through.
Serve when hot or allow to cool for a few minutes. If preparing for later consumption, place in a cooling rack and refrigerate for 40-45 minutes until fully cool.
Notes
Do not preheat the air fryer with parchment paper in it only.
Refer to your air fryer manual for recommended temperature settings if it does not have the exact temperature recommended in this recipe.
Alternate recipes
For variations, you can use other cheese varieties such as pepper Jack in place of cheddar cheese.
Please refer to this article for tips on cleaning and maintaining your air fryer in good condition for later use.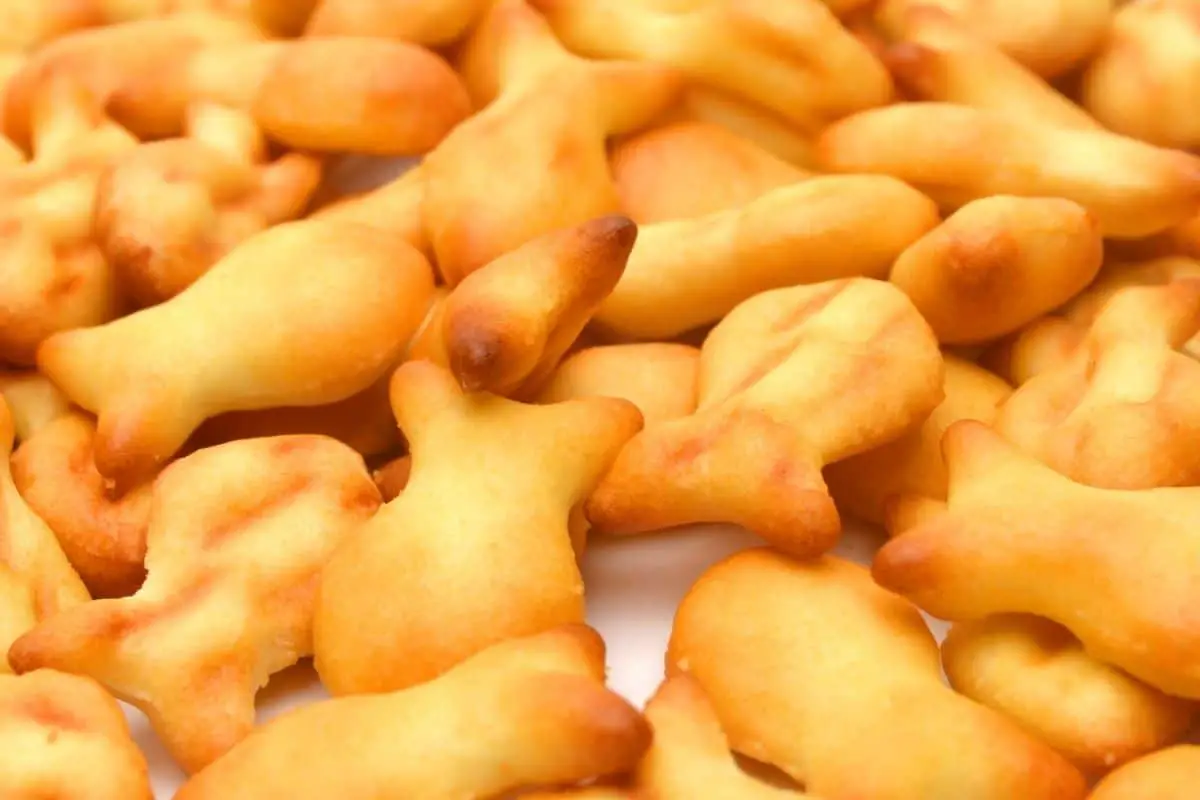 2. Air fryer breakfast fish biscuit bombs
If you are a fish lover, then this recipe for quick breakfast biscuit bombs is a match for you. It will leave you yearning for more servings the next morning. You'll want to eat them in a row!
It is a family meal that will boost your morning mealtimes with love as each family member munches into their share with a thankful heart for the simple yet fulfilling bombs.
With fish and eggs as the center of interest, this meal taps into the power of breakfast as the most important meal of the day to replenish your body with vital proteins.
Recipe for air fryer breakfast fish biscuit bombs
Ingredients
4 slices of American cheese
1 tube of regular canned biscuits
4 eggs
1/2 Ib. of cooked breakfast fish
Instructions
Cook the fish in a nonstick skillet
Scramble the eggs and cook with the American cheese until its melted and cooked through
Take out the biscuits and flatten each into a round on a cookie sheet or board
Place 1/8 of the egg mix and 1/8 of the fish to each of the biscuits
Fold up each biscuit to cover the sausage and egg mix
Place 4 of the biscuits in an air fryer pre-lined with a cooking parchment paper, the sealed side facing down
Spray the tops of the biscuits with cooking spray
Cook for 8 minutes at 325° Fahrenheit
Carefully turn the biscuits over and spray with some more cooking spray
Cook for an extra 2-3 minutes until cooked through and turned brown
Repeat the cooking procedure with the remaining 4 biscuit bombs
Serve immediately when still hot or leave to cool for a few minutes.
Notes
Placing parchment paper prevents the bombs from sticking to the floor of the air fryer basket.
Cool the egg-cheese mix and cooked fish a bit before placing on the flattened biscuit dough to make it easier to fold and seal the bombs.
Alternative recipes
You can substitute the fish or add avocado, pepper Jack cheese, or salsa as per your specific preferences or available ingredients.
If you would like to find other easy and healthy recipes for meals that you can prepare using your air fryer, you are welcome to use our 999-recipe air fryer cookbook. It will give you a mix of vegetarian and non-vegetarian recipes for healthy, well-balanced individual and family meals.
Storage instructions
You can freeze both the air fryer breakfast fish biscuit bombs and egg and bacon bombs for later consumption. To freeze, wrap each fully cooled biscuit tightly with a plastic wrap and foil on top. Put this in a resealable plastic bag and place it in the freezer. Store for only 1-2 days. To reheat, remove the freezing wraps and wrap the bomb with a paper towel. Use a microwave-friendly plate to warm it for 1 ½-2 minutes in the microwave until warm throughout. Allow the microwaved bomb to rest for a minute before serving.
Side dishes
These two meals can go well with an air-fried vegetable spring roll from our recipe collection for a balanced morning meal to jumpstart your day with a dash of proteins and vitamins.