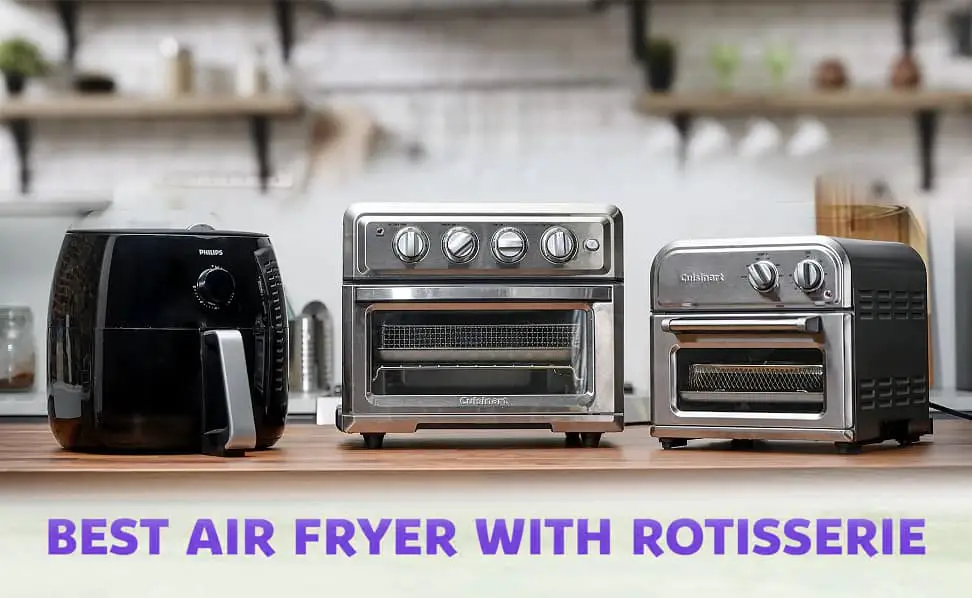 Rotisseries first appeared in French cuisine. Large chunks of meat such as whole chicken, turkey, and pork were stuck in long rods and allowed to roast, rotating to allow all parts to cook. These days, rotisseries have become more advanced but the thrills are still as intense.


The versatility of air fryers has become a thing of delight for many lovers of roasted and fried foods today. Air fryers that come with rotisseries are absolutely handy, and we think you should try one out. We have reviewed a list of air fryers that come with rotisseries for your best kitchen experience. Take a look and hit the links to buy one for yourself.
Air Fryer with Rotisserie Reviews
Here are the best air fryers with rotisserie of different brands. We list the top 5 products with their pros and cons. You can choose one of them as per your needs and family size.
The Chefman digital air fryer with Rotisserie comes with the versatility that will make you swoon. Apart from being able to actually cook your chicken or turkey over a rotisserie spit, it can also dehydrate, fry, roast, bake and grill your food.
With its auto shut off inbuilt setting, you can rest assured that your meat is never going to get burnt because as soon as its set timer has rung, it'll go off.
Another advantage of this air fryer with rotisserie is its large size. It can cater for a family's meal fast and easy. Consume 98% less oil as this air fryer requires little or no oil to get your chicken cooking.
There's also no need for preheating and it uses a temperature of between 90°F to 400°F. Its interior lighting helps you watch your food cook on the rotisserie rod. Find an exciting PDF user guide with the packaging to teach you how to safely use your air fryer.
Pros
This air fryer has dishwasher-safe parts
It comes with a 30-day money-back guarantee.
Cons
The Gowise air fryer is another family-sized kitchen appliance that though is one of the largest around, is highly compact. It comes with three rack levels for more convenient cooking.
Its built-in rotisserie can take a whole chicken at once! It's fast and has ten different accessories to make your cooking even more enjoyable. Accessories include rotisserie tong, rotisserie rod, drip pan, and so on.
You'll get 15 easy-to-use presents and a one year warranty on your purchase. With this air fryer, you can perform other functions of air frying your French fries and even dehydrating your food. It's easy to clean up as it comes with a non-stick drip pan and great for a gift.
Pros
Its size makes it suitable for a large family.
Cons
It may not appeal if what you want is a small air fryer.
The NuWave black air fryer with rotisserie is a classic that will bring a whole new delightful atmosphere to your kitchen. The led touchpad control makes it easy to operate. It has a temperature range of between 100 to 400°F. This means faster cooking to produce crispy, yummy foods.
You'll love that it has settings for warm and delay such that you can set your food to cook at a particular time that's not in the immediate.
It has a retractable vent that helps to control moisture. Also comes with preheat settings if you want to preheat your air fryer before cooking. You'll find five skewers inside for making kebabs more easily. It is absolutely easy to clean.
Pros
It also comes with a dehydrator setting.
It's a large-capacity air fryer that cooks more food in less time.
Cons
Some people may find it a little pricey.
This air fryer is lovable and easy to use. It also comes with three recipe books! You can enjoy a wide range of recipes and hone your cooking skills. It's a 6 QT air fryer with 7 in 1 cooking functions ranging from frying to grilling and of course, the rotisserie.
It uses Rapid Air Technology to distribute a whirlwind of turbo cyclonic air around your food at about 360°F. This air fryer can fit a five-pound chicken in its rotisserie and will cook your food fast. It has eight preset buttons that are simply one-touch. You'll also get ten stainless skewers for your kebab cooking pleasure.
Pros
Its accessories are dishwasher safe.
Cons
Just the price may be an issue, every other thing is intact.
The Innsky air fryer is the last air fryer with a rotisserie that we're reviewing here and you can say that we saved the best for the last.
This all-in-one amazing air fryer will help you rotisserie your food within a few minutes. But that's not all. It also serves as an oven toaster, air fryer, and a pizza grill!
It works at temperatures of between 150°F to 400°F and you can bake with it if you want. You can also dehydrate your food, cook your vegetables, and make your crispy fries.
It comes with six accessories that are dishwasher safe. You'll consume 75% less fat by using this air fryer. Avoid the mess that comes with traditional frying and use this smart appliance to make more delicious food for you and your loved ones.
Pros
Its accessories are dishwasher safe.
Cons
Some may consider it expensive.
FAQs on Best Air Fryer with Rotisserie
Here are some of the frequently asked questions to know the detailed information about the best air fryers with rotisserie.
Will Chicken Cook Evenly in a Rotisserie Air Fryer?
It most certainly will. One of the most important features of the rotisserie is that it allows your food to cook evenly on all sides at the same time. When the timer rings, your food is ready and whichever angle you choose to bite from, you'll get all-round yumminess!
Does the Rotisserie Air Fryer need Preheating?
The rotisserie does not usually need preheating, unlike other air fryers. The minute you place your food inside, it's ready to start cooking.
Is It Safe to Use an Air Fryer with Rotisserie?
Yes, it is. An air fryer does not pose any health challenge and you'll find that it's good for your health that you can consume less amount of oil. Feel free to use your rotisserie without fear.
Conclusion & Final Thoughts
If you've been considering getting an air fryer with rotisserie, now is the best time to act on the decision. Enjoy all the benefits of any of our top five air fryers and give your loved ones a whole new experience with eating fried foods!