Vremi teamed up with Gina Homolka, the Skinnytaste blog founder, one of the New York Times bestselling authors, to bring you an air fryer, which is your saving grace to cooking delicious healthy meals with little to no oil.
As a bonus, this handy kitchen appliance comes with a booklet that contains 15 easy Skinny taste recipes, including Gina's go-to air fryer meals.

HIGHLY RECOMMENDED!
Vremi Skinnytaste Air Fryer
It facilitates roasting, frying, grilling, and baking, rolled into one, delivering unmatched convenience compared to its rivals in the market.
Great value for money
Large capacity that makes it ideal for bulk cooking
8 cooking presets
In this detailed review, we'll explore why the Vremi Air Fryer that allows you to effortlessly grill, roast, bake, and fry, is a must-have. Read on!
Basic Features
Let's delve into the basic features of the Vremi Air Fryer that make it worth every dollar.
Extra Large Capacity
With a 5.5L removable, large, nonstick basket, the Vremi Skinnytaste appliance is sufficiently large to cook meals for an entire household or when you're having guests over. Its dimensions of 13.8 by 13.8 by 13.4 inches are a clear indication that this air fryer is a great fit on your kitchen countertop without taking up too much space.
Dishwasher-Friendly, PFOA-Free, and Nonstick
The Vremi air fryer has a basket and outer pot with a nonstick, black coating that makes cleaning after each use a walk in the park. The interior is also nonstick, making cleanup hassle-free.  You'll be pleased to learn that the basket and outer pot are dishwasher-friendly or easily cleanable using liquid detergent, a non-abrasive sponge, and hot water.
The PFOA-free Teflon layering has approval from the FDA, which serves as validation that it lacks harmful materials that are detrimental to your health. Furthermore, with certification by the ETL along with adherence to the stipulated UL requirement, you'll have peace of mind as you cook a vast assortment of foods using this air top of the range fryer.
Versatility
With the uncanny ability to do more than mere frying, the Vremi Air Fryer grants you free rein to be adventurous in the kitchen. It facilitates roasting, frying, grilling, and baking, rolled into one, delivering unmatched convenience compared to its rivals in the market.
By combining hot air with 360° high-speed air circulation and soaring to temperatures ranging between 140°F and 400°F, this 1700W oil-free air fryer whips up healthier meals at a significantly faster pace than a generic oven.
The average cooking time of the Vremi Skinnytaste is anywhere between 10 and 12 minutes, which is quite impressive, to say the least.
A Digital Touch Screen That Provides 8 Cooking Presets
At the touch of a button, you can promptly choose one of the eight cooking presents available at your disposal and whip up bacon, pork chops, shrimp, and French fries, to mention a few.
Alternatively, you can set your preferred cooking temperature and time for more customized control. With the built-in preheat feature, you can make sure the unit heats to your preferred temperature before you start cooking. Not only does this usher in more delicious meals but also considerably shortens the cooking time.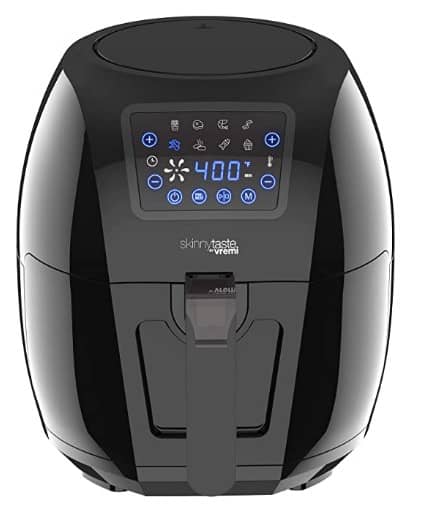 Standout Features
Let's discuss a few aspects that set the Vremi Skinnytaste Air Fryer apart from the pack.
Health Perks
Granted, the health benefits are not exclusive to the Vremi Air Fryer. However, it's no secret that probably the greatest feature and reason to buy this appliance is the ability to create your favorite meals and enjoy the authentic fried taste you desire.
The best part is that you get to do so with less fat and oil compared to deep-fried foods. After all, an air fryer demands a fraction of the oil (1 tablespoon) that a deep fryer requires (1 cup).
As a result, this implies a lower calorie intake. Studies have linked the consumption of fat from vegetable oil to a wealth of health problems such as the elevated risk of heart disease and a spike in inflammation rates.
360-degree Rapid Air Circulation
It's one of the features that make the Vremi Skinnytaste Air fryer stand out from the rest. You can delight in fried foods without the additional calories by cooking the food with extremely hot air coupled with the rapid circulation of air.
As the food is being heated from all directions, you're assured of its uniform cooking. Moreover, the food is healthier with considerably fewer calories, which is ideal for anyone on a weight loss journey.
Dishwasher-Friendly
All the components of the Vremi Air Fryer are dishwasher-safe. It's a significant perk to consider when buying an air fryer. After all, you want the use of this appliance to be thrilling and quick without using too much elbow grease to get it spick and span. After each use, simply toss the components right into your dishwasher that will get the job done in a jiffy.
Preset Programs
The Vremi Air Fryer comes with preset programs that make creating your favorite meals a walk in the park. You can easily:
Air Fry
It's no secret that sweet potatoes are typically the go-to for air frying. They not only develop the crispy texture you desire that's closely similar to French fries but also rich in fiber. Furthermore, they are entirely free of deep-fried fats.
It's worth noting that an air fryer may have a strong plastic odor during the first few times you use it. The smell should go away over time. However, if you notice it lingering, clean the appliance's removable components using soap, water, and a soft sponge.
Roast
Are you ready to roast away? You'll be pleased to learn that the Skinnytaste Za'atar Lamb Chops usher in the opportunity for a delightful roast. In up to 10 minutes, you can have seared chops with a burst of flavor that will leave you craving more.
They are the ideal quick fix for weeknight meals when you don't have the luxury of time. Whip up veggies, chicken, or chops and get an oven-roasted outcome that will spark a smile without the mess.
Bake
As much as we all need a little baking in our lives, the truth is, it's not always an easy feat. With the Vremi Skinnytaste Air Fryer, Gina's Garlic Knots are an ideal side-dish to any course in minutes. Get flakey crust, golden, drizzled with parsley and Parmesan, and served with warm marinara sauce as a dipping.
Flexibility to Check on Your Food as It's Cooking
You can open the Vremi Skinnytaste Air Fryer as you deem necessary to closely monitor your food's progress without impacting the cooking time or losing heat. Doing so aids in getting the food to your desired level of 'fried' for a more customized meal.
Given that it uses a small quantity of oil (1 tablespoon), there's no denying that you'll want to frequently shake the air fryer basket every 5 minutes throughout the entire cooking process to ensure food doesn't stick to the sides.
While it's renowned for its consistent cooking across the basket, the added flexibility of checking your food as it cooks is a bonus.
Pros of the Vremi Air Fryer
Great value for money
dishwasher-friendly components
Large capacity that makes it ideal for bulk cooking
Nonstick coating
8 cooking presets
Impressive versatility
360-degree prompt air circulation
The Cons of the Vremi Air Fryer
Fair durability
Relatively noisy
FAQ
Here are the answers to some of the most commonly asked air fryer questions.
No! Like other air fryers, the Vremi Skinnytaste heats significantly faster than a generic oven. The total time it takes to cook food in a cold air fryer is the same as waiting a few minutes for it to heat before adding your food. Moreover, skipping the preheat stage is more convenient, which is one of the perks that come with using an air fryer.
How much food can an air fryer hold?
Most air fryers, including the Vremi Skinnytaste, can fit enough food for at least four servings, based on what you're cooking. Remember not to stuff the basket. If you decide to make several batches of a certain recipe, check if the second batch is ready a few minutes earlier than you anticipate as the air fryer is still hot from the first batch. As a result, it may cook the second batch sooner than you expect.
Do you need to buy attachments and extras for your Vremi Skinnytaste Air Fryer?
No! Most air fryers come with attachments such as pans and racks. Although these come in handy for certain recipes, the recipes that come with the Vremi Skinnytaste were designed to solely use the air fryer basket. Therefore, no extra bells and whistles are required.
How do you prevent food from sticking to your Vremi Air Fryer?
For foods that are susceptible to sticking to the basket, for instance, delicate fish and breaded chicken, spray the basket lightly with a vegetable oil such as avocado. You can also use a foil sling to make the removal and cleanup of sticky foods such as fish easier.