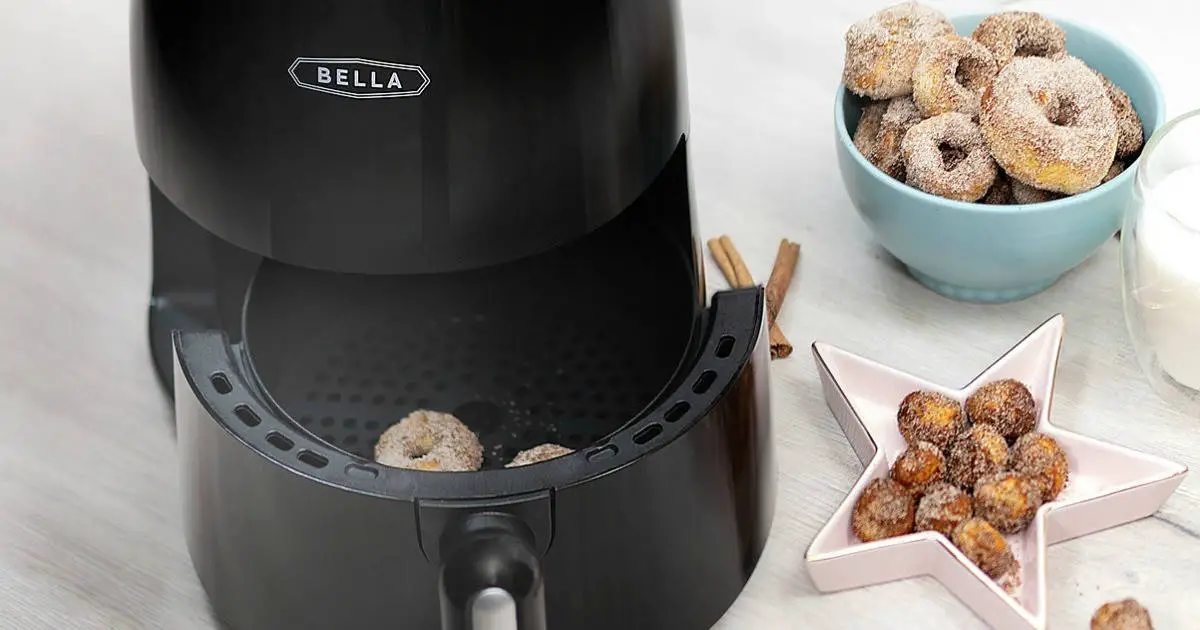 Do you love fried food but want to eat healthier? Then you must read this review and guide before buying a Bella Air Fryer.
Hot air fryers are becoming increasingly popular as an alternative to conventional oil frying; however most of the fryers available on the market are fairly expensive. However, the Bella 14538 Electric Hot Air Fryer is one of the best small capacity air fryers and is offered at an affordable cost: you can buy in under $100.
Prospective customers who are looking for Bella Air Fryer Reviews before purchasing an air fryer will find the information provided in this article useful.

HIGHLY RECOMMENDED!
Bella Air Fryer
This air fryer enables you to cook crispy golden brown french fries, onion rings & chicken nuggets safely, without all the extra calories & unhealthy fats.
Easy to use
Automatic shut off feature
Good value for money
What Makes an Air Fryer Beneficial?
Oil is required for frying food using conventional methods, however, oil contains a lot of fat which is unhealthy, has more calories, and can lead to weight gain and health problems.
Microwave cooking is considered by some to be an alternative to frying; however, the quality of microwave cooked food is not very good since the food often remains soggy.
Air fryers are ideal for making delicious meals or snacks that are crunchy on the outside and soft on the inside because these fryers don't require nearly as much unhealthy oil or fat.
What Foods Can be Cooked in an Air Fryer
Air fryers are practical for just about any food you normally would have fried with oil. All air fried foods are delicious. These foods taste like crispy oven-baked food that has a soft center with crispy edges. Air fried foods do not taste exactly the same as oil fried foods but air fryers are much quicker for meal prep compared to conventional frying.
These devices are ideal for preparing all sorts of food such as chicken fingers or nuggets, vegetables, onion rings, French fries, cheese sticks, fish, pizza, doughnuts, and many other foods.
Is Air Fried Food Really Healthier?
With oil fried foods, lots of oil is absorbed by the food. Dough foods or food with a dough layer are the unhealthiest because this layer of dough absorbs so much oil during frying. When you consume these foods, you also consume all the oil that is soaked up by the food that was fried.
If you want good proof of just how much oil and calories you consume with oil frying, then you can do a simple test. Simply grab a deep pan and add a very specific amount of oil to your pan. You can now proceed to oil fry your food. Allow the oil to completely cool and measure the oil level again. The amount your oil reduced is the amount of oil you consume every time you deep fry food.
With air frying, the food is not submerged underneath the oil and cannot soak up any oils. The foods you consume are much healthier and contain fewer calories.
It is important to know that vegetable oil itself isn't toxic or unhealthy. But consuming too much oil on a regular basis can lead to medical conditions such as cardiovascular disease. Lots of oil consumption can also result in obesity and many do believe that too much oil is also linked to cholesterol conditions.
Naturally, your food can still be unhealthy if you add a lot of unhealthy ingredients such as sugar, salt, and other carbs. But air fried food is still a lot healthier compared to deep fry cooking methods.
Air fryers are also much cleaner and quicker to use compared to deep frying.
Bella Air Fryer Capacity
Wondering which is the best air fryer? For many, the best fryer is one that has a large capacity basket.
This Bella fryer has a basket for keeping food in to be cooked with a capacity of two and a half liters. This is usually sufficient for cooking a meal for a small family of two or three persons.
The basket can hold 2.2 lbs of food. In case of parties or other occasions where food has to be prepared for more people, the air fryer can be used continuously for a few hours without its capacity being affected.
It is advisable to wash the basket before using it the first time, this will ensure that there are no unpleasant smells when it is heated. The cooking basket is removable and can be washed in a dishwasher conveniently after it has been used for frying food.
Frying Food with Bella Air Fryer
The air fryer uses a heater which heats the air in the fryer. It has a fan to circulate the hot air in the fryer, to ensure that all parts of the food are heated and cooked uniformly.
A wide variety of food can be fried until they are golden brown with this Bella air fryer. The surface of the food is crispy and all the juices are retained for additional taste.
Some of the foods that can be fried include onion rings, French fries, small cakes, corn cobs, loaves of bread, and chicken nuggets. Approximately ten to twelve chicken nuggets can be fried at the time. The air fryer is similar to an oven using convection heating for the cooking process.
Click Here to review the Bella Air Fryer
Design and Safety Features of Bella Air Fryer
The Bella fryer is well designed, making it easy to use. To simplify usage, the user only has to select the temperature for the food being cooked and the time duration for which the food has to be cooked (using the control knobs on the front of the device).
The fryer has a window that allows the user to watch the food as it being cooked.
For greater safety, the fryer has an automatic shut off feature, allowing it to shut down automatically after the cooking period is over.
The fryer material is insulated so that it is cool to the touch, allowing the user to handle it safely without being hurt, even when the inside is hot.
Heating Technology Behind the Bella Air Fryer
The Bella air fryer has a heater rated at 1500 watts and uses convection heating so that the air inside the fryer is heated uniformly. This air circulates around the food that is being cooked, making it crispy.
The temperature can be adjusted between 175 degrees and 400 degrees Fahrenheit in steps of 25 degrees using the adjustable knob. This gives the user greater flexibility in selecting the right temperature depending on the type of food that is being cooked.
A red power light and a green heat indicator light have been placed on the fryer to show the status of the air fryer's cooking cycle.
Users have noted that the fryer will switch off towards the end of the cooking cycle after the food is cooked and then switched on automatically to ensure that the food remains warm.
Product Construction, Weight and Dimensions
The Bella Hot Air Fryer is made from stainless steel for greater durability. It has a handle on the front side for opening and closing the fryer. It is black in color, so it will not get dirty or stained easily.
The fryer has four legs and can be kept on any stable smooth surface like a kitchen countertop. The fryer is fairly compact (dimensions: 14.2 X 13.2 X 11.4 inches) so it can be stored easily when not in use.
The weight of the fryer is 10.47 pounds, so it can be easily handled. A drip pan is provided below the cooking basket, so that when the fat in the food is fried, it will accumulate in the pan and not in the food being cooked.
A recipe book is provided with details of temperature and time settings for popular dishes that can be made using the air fryer.
These fryers are also easy to clean since most of the loose parts are dishwasher safe. These machines are much easier to clean since such a small amount of oil is used.
Pros & Cons of Bella Air Fryer
Pros & Cons of Bella Air fryer based on customer feedback and other consumer reports which are discussed after using this air fryer.
Pros
Inexpensive air fryer, good value for money, cheaper than most other fryers
Easy to use since only temperature and cooking time have to be set
Automatic shut off feature after cooking is over, helps to save time.
Almost no oil is required for frying food for healthier low-calorie cooking, though the quality of cooked food is similar to oil fried food
Can be used to cook a wide range of food items/recipe book provided
Convection heating technology and 1500 watt heater help in cooking food quickly; frozen French fries are cooked in 15 minutes.
Can be used continuously for a longer period of time, without affecting its performance
The cooking of food can be monitored using the window which as been provided
The basket for cooking is removable and can be easily washed in a dishwasher
Cons
Some customers complain that parts of the basket disintegrate after some time
Small capacity fryer for larger families, an upgrade may be required
Does not have automatic settings for different foods/ the temperature and cooking time has to be set separately
Suitable for cooking only a single layer of food at a time
Conclusion
The Bella (14538) 2.5 Liter Electric Hot Air Fryer is one of the most popular and top-selling hot air fryers available for sale online. A large number of customers that have purchased this fryer are largely satisfied with this air fryer, since it cooks delicious food and is available at a very good price.
This is one of the best kitchen appliances to get if you want to set up a healthier kitchen that can be used to produce a huge variety of tasty foods within minutes.