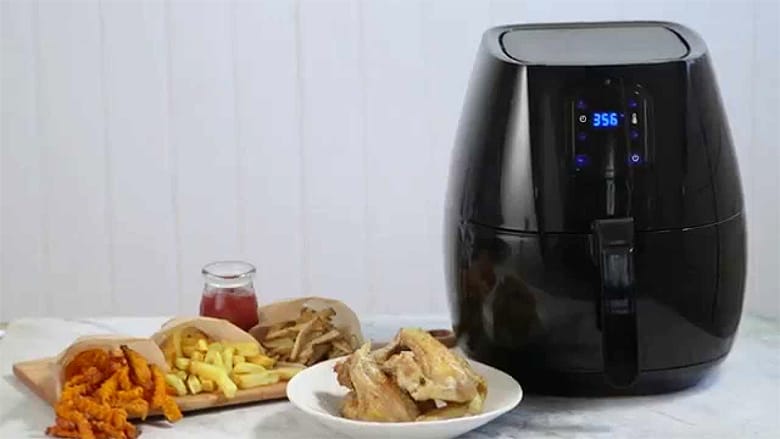 One of the air fryers doing this healthy cooking business and at a very fast pace is the HealthyFry XL Air Fryer (made by Chef di Cucina). Life is spinning by really fast. The need to get things done very quickly while still saving a lot of energy and time has never been greater. Foods, just like everything else, need to be prepared as fast as possible.

HIGHLY RECOMMENDED!
HealthyFry XL Air Fryer
This appliance can deliver healthy meals in a very short time using the convection mechanism to circulate super-heated air around the food.
Very large capacity
Easy-to-use digital controls
Easy-to-clean parts
This desire to save both energy and time has prompted technology to bring in a couple of inventions such as air fryers.
Air fryers are the next big things. A new innovation to save us all the energy and time so we can channel them into other activities. With air fryers, you can do more than just fry (as the word "fryer" might suggest). You can grill, roast and bake. And you can do all of these without even breaking a sweat, as it gets the job done in a matter of minutes.
The best part about it all is how healthy the appliances are. Because the appliance works by circulating hot air all over the food, it requires little or no oil to get the job done. This means that even without using oil to cook your meal, you can still enjoy the great taste. The use of air fryers to cook is, therefore, one of the healthiest ways for cooking as it helps you eliminate about 80% oil and fat from your meal.
Not only does the appliance make for a beautiful addition to your kitchen, but it is also very effective in helping you prepare tasty and healthy meals in no time at all.
HealthyFry XL Air Fryer known for its speed, this appliance can deliver healthy meals in a very short time using the convection mechanism to circulate super-heated air around the food. So whether it is a roast, a grill, baking or just simple frying, the HealthyFry XL Air Fryer circulate powerful hot air around the food cooking it in a fraction of the time it would take when you use a traditional cooking method.
It is also important to note that this air fryer is one of the largest out there. Able to comfortably accommodate 8 pounds of turkey breast or 6 pounds of whole chicken, this appliance can cook you just enough food to serve your entire family. The holding capacity of this air fryer is large enough to make it ideal for preparing meals even during special occasions.
Another important feature that makes this appliance a desirable item in your kitchen is its cooking temperature. The cooking temperature is adjustable to up to 390°F. This temperature is hot enough to cook just about any type of food. HealthyFry XL Air Fryer is also designed to heat up very quickly, taking about 3 minutes to reach the temperature required for cooking. That is it becomes ready to be used for cooking after only 3 minutes of preheating.
The air fryer is also built with digital controls that are very easy to operate. You could use these control to preset the cooking temperature and time as well as select what you intend to cook; fries, meat, fish, shrimp, drumstick, cake, and frozen food. This makes the air fryer very easy to use, even by those who have never cooked a day in their lives.
Moreover, it is designed to be non-sticky so the food does not stick to the cooking surface. This is why the appliance is very easy to clean.
And even though, the air fryer is compactly built, taking up only a little space in your kitchen, it can do more than just frying. The air fryer also supports the cooking of foods that require roasting, baking or grilling.
Pros
Super-fast cooking: HealthyFry XL Air Fryer's dynamic way of supplying powerful hot air all over the food makes it possible to cook your food in a matter of minutes without taking anything away from the taste and flavor. The food gets cooked faster and the delicious taste and great flavor is retained still.
Very large capacity: This feature cannot be overemphasized. The appliance is large enough to be used in preparing meals whether in small or large quantities.
Versatility: the air fryer can be used for different purposes. It can be used to bake bread, lasagna, or even cake. It can also be used to grill your meat or fish, giving them an absolutely delightful taste. You could also the air fryer to roast nuts and vegetables or simply fry delicious chips and French fries.
Easy-to-use digital controls: Setting the cooking temperature and time as well as selecting what to cook can all be done by the push of a button or two.
Easy-to-clean parts: This feature is one that endears the air fryer to everyone that owns one. Its parts are not only detachable but also very easy to clean. And the fact that the cooking surface is non-sticky makes the job a whole lot easier.
Cons
Rusting: the cooking surface could undergo rusting when the appliance is not properly maintained. This means that the non-stick surface of the cooking basket could come off following a lot of negligence making the appliance less suitable to cook with. This could make the cooked food less healthy as the coat could flake into the food. Also, a sticky surface means there would be difficulty cleaning the air fryer.
Limited warranty: even though this doesn't happen in all cases, some customers have reported that their HealthyFry XL Air Fryer stopped working abruptly after one year. The unexplained shutting up of the appliance has seemed a great concern to some users.
Conclusion
This article contains information gathered majorly from what both the manufacturers and users have said about this product.
The information is particularly about the HealthyFry XL Air Fryer and not all air fryers and therefore proper research to decide which air fryer best suits you is recommended.
The opportunities that air fryers provide us with are however undeniable. If you aren't on the air fryer wagon yet, you most certainly should jump in right. And most importantly, never hold yourself back from experimenting with your HealthyFry XL Air Fryer and with various recipes.
Happy Healthy Frying with Healthy Fry XL Air Fryer!