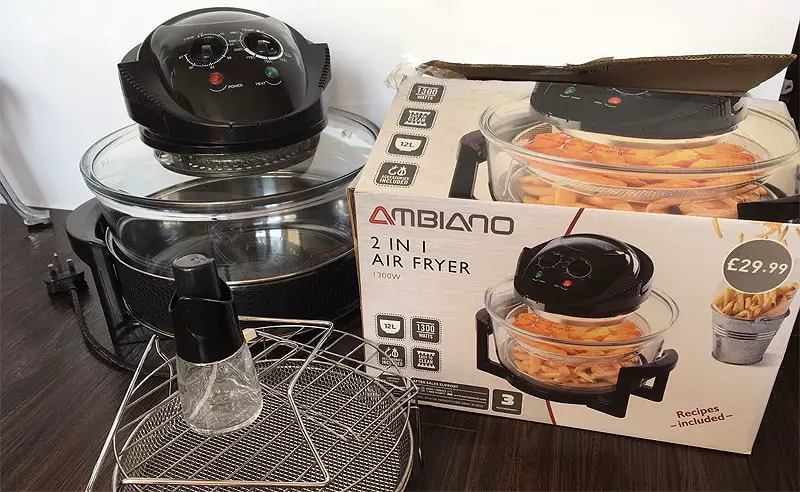 Having bought the Ambiano air fryer as a cooking appliance, I have been able to use it twice in a week and so far I have no complaint!

HIGHLY RECOMMENDED!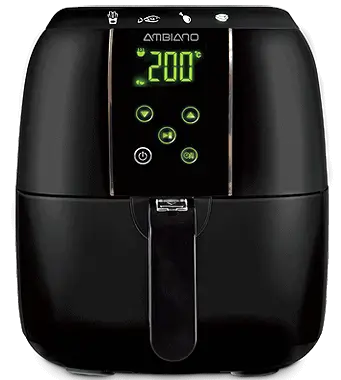 Ambiano Air Fryer
This air fryer isn't particularly huge but it is a terrific little device for those who need something modern, digital, and easy to use.
It cuts the fat content in the foods dramatically
Easy to use
Can cook and make foods taste better
I have been able to use it for homemade fried chips and crumbed chicken tenderloins. My meals have been cooked perfectly by the use of this Ambiano air fryer each and every time.
I was able to enjoy delicious meals without any traces of a burnt smell and the foods were relatively free of fat.
If you are thinking about kitchen air fryers and want the best one for cooking a variety of foods, then you won't make a mistake when you buy this digital appliance.
Here is a quick look at the main features of this little fryer.
What Is Included?
Like most air fryers, this one includes all of the accessories you need to get cooking. The kit includes an air fryer, a fry basket insert with a cool-touch handle, a fry basket, and a user manual that you can use to get to know your device a little bit better before you start using it.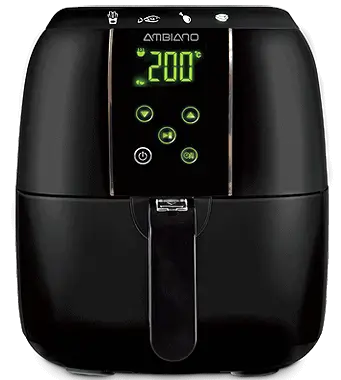 Ambiano Air Fryer Specifications
This air fryer isn't particularly huge but it is a terrific little device for those who need something modern, digital, and easy to use. Here is a quick look at the main specifications of this handy fryer:
Capacity: The fryer comes with a 2.75-quart oven and it includes a 2.6-liter frying basket. This basket isn't particularly huge but it is still sufficient for preparing foods for a small to medium family.
Settings: The digital fryer includes 8 pre-set programs. With these programs, you can prepare several foods such as French fries, bacon, chicken, shrimp, steak, cake, veggies, and fish without giving your machine much thought.
Temperature: The fryer comes with adjustable temperature control. This temperature control gives you more control over the final results of your food and it enables you to cook a greater variety of foods. You can simply search recipes online to find out what temperatures are ideal for other foods and enhance the flexibility of your air fryer even more. This air fryer has a maximum temperature of up to 400 degrees that you can use for cooking your food.
Display: The air fryer has a digital display with a backlit touch display. This enables you to see the programs you want to select with great ease.
Pros:
Cleaning your Ambiano air fryer is easy since it only requires the basket and pan to be wiped with a paper towel before it is cleaned. Healthwise, air fryers are good for preparing foods that don't harm our bodies as much as normal frying methods.
Compared to oil frying, the calorie and fat content is very low when an air fryer is used to fry foods or to cook veggies and potato chips. It cuts the fat content in the foods dramatically.
I also used it to fry veggies. In fact, it fries veggies perfectly with salmon.
It takes a shorter time these days to cook since it only takes 15 to 30 minutes and I am out of the kitchen. This fryer has never disappointed me!
By using this brand of air fryer, the foods I usually cook are a lot healthier since my air fryer only requires a small amount of fat content (or none) for the foods to get fried. Therefore, oil or fat consumption is cut by the use of an Ambiano air fryer.
The Ambiano air fryer is easier to use even though the price of this air fryer is under $100. I cannot see the sense of spending anymore since I have yet to experience any problems with this air fryer.
The instructions are very clear and easy to understand too. First-time users can just read through the manual and can understand without even being trained on how you to use the air fryer while cooking.
For personal use, I can cook and make my foods taste better than when I use the conventional oven. I can also prepare foods if I need to feed two or three people with it.
Despite the fact that it cannot feed a bigger number of people, perhaps more than five, it can still cook food faster than when I use my conventional oven.
The Ambiano air fryer provides the capabilities to allow you to create a crispy outside layer and while inside of your food remains moist, which is perfect for whole fried chickens. It also allows me to add good flavors to the food without frying it with tons of oil.
While some people claim that Ambiano air fryers can produce toxic substances, I am not quite sure that air fryers are toxic because there is no proof. I have been using it for quite a few years and I have never experienced anything unusual by using Ambiano air fryer.
The Ambiano air fryer can develop a crispy outside for chips or veggies but on the inside, the food will not be dry. This enhances the texture and taste of the food as opposed to when a traditional oven is used. With this feature, cooked food prepared by the Ambiano air fryer will still maintain its softness because the moisture content is retained from the inside of the fried foods.
Cons:
One problem is that the Ambiano air fryer is small in size, thus cannot be used to cook a lot of food for many people. So, you may want to consider a larger model if you often cook for large groups. However, be careful because my niece bought me a larger size of a different brand and that one only lasted one year before it stopped working.
In regards to the Ambiano air fryer I bought from Aldi, I have never experienced the same issue and it has lasted more than two years.
Another problem with this air fryer is that it produces a lot of heat quickly, which may cause some food types to burn quickly if the wrong settings are used. Obviously, burned food is no fun and can even be dangerous to eat.
There are some rumors that suggest that using an air fryer can be unhealthy because of the nonstick coating, and while there may be some truth to this, using an air fryer is no worse than using a nonstick pan.
Final Thoughts
This certainly is one of the best air fryers to get if you love to make a huge variety of foods, such as chicken, onion rings, donuts, fish, steak, prawns, calamari, meatballs, bacon, roasted vegetables, dried fruits, and many other foods. It is an ideal tool for cooking for 1 to 3 people but it might be a bit small for larger families.
We do hope that you found this guide interesting but if you feel that you need something a little bit larger or different for cooking then we recommend you hop over to some of our other reviews where we discuss the best dry fryers, active fryers, air fryers, digital fryers, large fryers, and small fryers!