Ambiano Air Fryer Reviews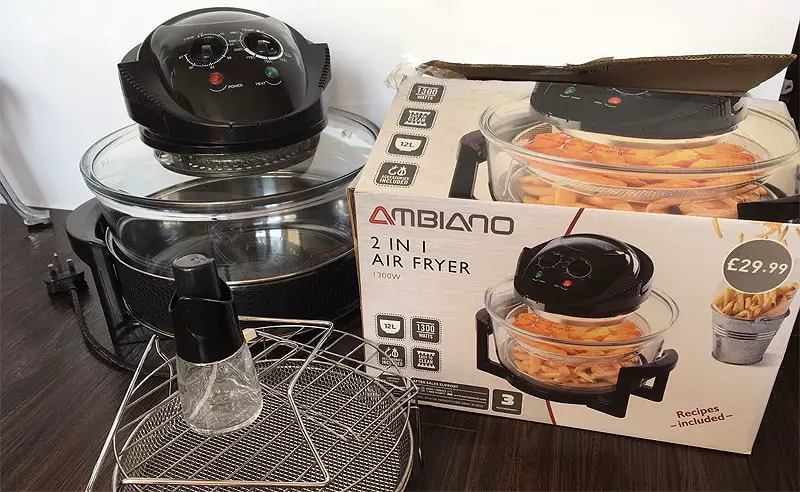 Having bought the Ambiano air fryer as a cooking appliance, I have been able to use it twice in a week and so far there is no complaint I can raise about it.
I have been able to use it for the homemade and fried chip, crumbed chicken tenderloins and it was cooked perfectly by the use of this Ambiano air fryer at the end of every cooking time.
I was able to enjoy delicious meals without any traces of burnt smell and the foods were fat-free.
To clean Ambiano air fryer is easier since it only requires just the basket and the pan to be wiped with a paper towel and it is cleaned. Healthwise, air fryers are good for preparing foods that don't harm our bodies' health.
Calorie content and fat content is very low when an air fryer is used to fry foods or to cook veggies and potato chips. It cuts the fat content in the foods.
The only problem is that Ambiano air fryer is small in size thus cannot be used to cooked foods for very many people. So my worry is that when are they putting out a larger size for Ambiano air fryer.
My niece bought me a larger size of a different brand, but that one only lasted one year and it stops heating.
For the Ambiano air fryer I bought from Aldi, I have never experienced the same and it has lasted more than two years. Another problem with an air fryer is that it produces a lot of temperatures which may cause the foods to get burnt. Therefore, charred or burnt food may lead to cancer which is a serious disease to human health.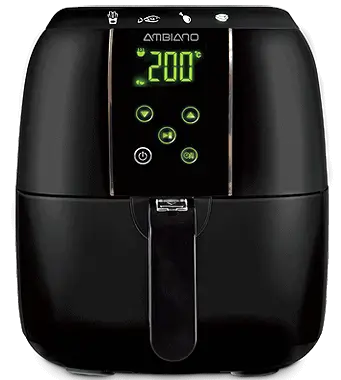 Also with the use of Ambiano air fryer, I do use it to fry veggies. It fry's the veggies perfectly with pink salmon.
It takes a shorter time for me these days to cook in the kitchen since it only takes 15 to 30 minutes and am out of the kitchen. It has never disappointed for getting faulty anyhow.
By using this brand of air fryer, the foods I usually cook doesn't have to consume a lot of fats since it only requires a small or no amount of fat content for the foods to get fried. Therefore, oil or fat consumptions are cut by the use of Ambiano air fryer.
Ambiano air fryer is easier to use also the price of this air fryer is under $100 and I cannot see spending anymore since it cannot get faulty so easily unless it is damaged intentionally.
Using Ambiano air fryer, the instructions are very clear and easier to use.
First-time users can just read through the manual and can understand without even being trained on how you can use the air fryer while cooking.
For personal use, I can cook and make my foods taste better than when I use the conventional oven by use of Ambiano air fryer. I can also prepare foods if I need to feed two or three people with it.
Despite the fact that it cannot feed a bigger number of people like more than five, it can cook the food faster not like when a conventional oven is used.
Ambiano air fryer provides the capabilities to allow you to cook a crispy outside layer and the inside of your food remains moist, perfect for whole fried chickens. Therefore it causes the fryer to change the flavor of the food without necessarily frying it with the oil.
As other people claim that Ambiano air fryers can produce toxic substances, it is not quite sure that air fryers are toxic because there is no proof.
I have been using it for quite a number of years but I have never experienced anything toxic by using Ambiano air fryer.
There is a rumor that Ambiano air fryer can cause cancer because it is carcinogenic but that sounds a lie. The foods cooked by an air fryer are safe and tasty as compared to the one cooked on a traditional oven.
Otherwise, there is no proof that Ambiano air fryer is toxic as I have tried to do my own research about this rumor on air fryers being toxic.
Ambiano air fryer can develop crisp from the outside in chips or veggies but from the inside, it remains moist. This enhances the texture and color of the food to remain the same as when a traditional oven is used.
With this feature, cooked food prepared by Ambiano air fryer will still maintain its softness because the moisture content is retained from the inside of the fried foods.