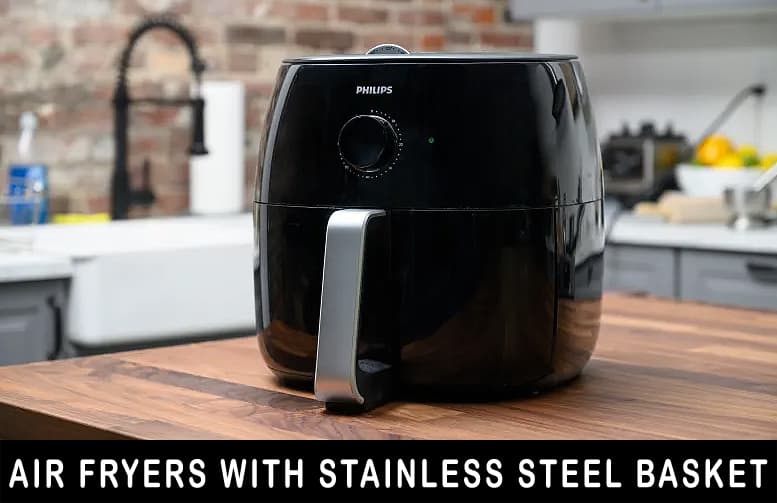 The benefits of using an air fryer are well documented. With these revolutionary appliances you can enjoy the crunchy texture of fried foods with a great reduction in the amount of fat.
But for all these benefits, some issues still arise. One of them is the main cooking mechanism of the air fryer: the cooking basket.
The cooking basket is used to contain your food when you place it inside the fryer. Each type of air fryer has its own basket that suits the machine to perfection and these baskets can be made from a number of different materials.
Types of Cooking Baskets
Cooking baskets are generally dividing into "stick" or non-stick categories. Common materials used to make the stick fryers include stainless steel and ceramic. With proper care though, stainless steel baskets and ceramic baskets won't offer any problems when washing.
For the non-stick option, they usually have a coating called Teflon that ensures food and grease don't stick to their surfaces. There are quite a number of coating thicknesses to choose from, but the general problem is this: Teflon coating has a tolerance level for heat such that if the level is passed, it begins to release harmful toxins into the food and air.
Some air fryers are also compatible with air fryer silicone pots or trays. These pots or trays fit inside the fryer and are also used to contain your food but unlike the baskets, these pots do not have any holes at the base. Silicone air fryer pots are a bit wobbly to use but they are also non-stick and they can withstand extreme temperatures without melting and without altering the taste or texture of your food.
This is the reason why we have written this article for you; so you can get air fryers with cooking baskets made with alternative materials: in this case, stainless steel.
Unlike cooking baskets with a Teflon coating, stainless steel cooking baskets won't disintegrate at a particular heat level. These baskets cannot be damaged with metal cooking tools such as spoons, and stainless steel is tarnish resistant which means the metal is unlikely to stain or discolor. Your basket wills stay in great shape for as long as you need to use it.
Below, we've reviewed five of the best air fryers with stainless steel cooking baskets for you. Let's dive in.
Review of Best Air Fryer with Stainless Steel Basket
With 16 present functions, the Gourmia air fryer is one of the most versatile air fryers available.
The presets you can choose from include dehydrating, air frying, baking, and toasting.
The glass door of the air fryer ensures you can see exactly what is going on with your food and if need be, make timely adjustments. The air fryer also features a crumb tray and a dishwasher safe basket, so you don't have to wash it manually.
The air fryer also has a baking pan and an oven tray, and this wide variety of accessories gives you a lot of exciting and tasty options when it comes to using your air fryer.
The machine also comes with a cookbook that has 15 or so different recipes that you can try with the air fryer.
Pros
16 preset functions offer a wide range of cooking options
Incredible versatility as the fryer is able to cook many things well
Cons
The air fryer is a bit pricey
This air fryer is more compact where the first one on our list is sizable. But this doesn't mean there is a reduction in its cooking capacity.
The air fryer can cook a 4-pound chicken without you needing to turn it or worry about if your ingredients are cooking properly. This is thanks to its wide, shallow basket.
The air fryer's adjustable temperature and time dials let you cook up to 450°F for an hour or less.
All the accessories of this Cuisinart air fryer are dishwasher safe, and the mesh cooking basket helps facilitate convection heat cooking for a crispy, tasty meal.
The air fryer has a flat pan that is used for roasting or baking and the glass door of the fryer helps in monitoring your cooking. A drip tray helps catch any dripping oil or grease from your food.
Pros
Several customers lauded the compact nature of the fryer
The fryer is very easy to use
The cooking time is even faster than what is stated in the manual
Cons
Some customers complained about the difficulty of cleaning.
Some customers were unhappy with the unreliability of the fryer.
This is one of the largest air fryers on our list, and for good reason; not only does it have a spacious 25-liter interior, it also has two cooking levels, meaning you can get a lot of food cooked at the same time.
The appliance also has about seven different cooking functions, such as toast, broil, bake, and more. When used horizontally, this air fryer can fit six pieces of toast, but when used vertically, it can fit a 5.5-pound chicken.
Because of the generous room this air fryer offers, it can be used to bake a small pizza. The temperature gauge of this air fryer goes up to 450°F with a maximum cooking time of 60 minutes.
All the accessories of the Chefman air fryer (wire rack, basket, broil pan, etc,) are dishwasher-safe.
Pros
This air fryer has two separate cooking levels that help with cooking more food in less time.
The recipes in the recipe book were lauded by some customers
Some customers commended the interior light.
Cons
Some customers complained about the poor quality of the rubber used to make the knobs.
There were a couple of customer complaints about the difficulty of setting pinpoint temperatures.
This is a family-sized oven with a capacity of 12qts. Very versatile, the air fryer has about 16 different presets and can serve as a rotisserie and also a dehydrator.
The air fryer also has a stainless steel interior which ensures that the fryer is a very durable product.
Because of its versatility, some foods that you can cook with this air fryer are pizza, steak, cookies, fish, chicken, fries, vegetables, and so much more.
Pros 
A lot of customers were satisfied with the purchase.
A lot of customers are happy with the speedy cooking time
The air fryer's versatility was lauded by quite a lot of customers.
Cons
The air fryer's manual is a bit difficult to understand.
Some customers complained about the footprint the rubber stand left on their counters
This air fryer has a stainless steel basket that is easy to clean and very durable. The unit is also certified as being BPA free, which makes it even more of a healthier option.
Pros
The unit is easily affordable.
The unit is suited to cooking for a small family.
 A lot of customers lauded the even heat distribution of the air fryer, as food made in batches all came out well
Cons
Some customers complained about the controls not being user friendly.
There were complaints about the top half of the unit getting extremely hot
Are Stainless Steel Baskets Better than Non-Stick Baskets?
This depends on what your definition of "better" is. If it's about non-stick abilities, then nonstick baskets are better.
But if you're bothered about the potential release of harmful toxins into your food because of passing the heat threshold of Teflon, then stainless steel baskets are better. This still leaves the issue of washing, we know. But we've got something for that; seasoning.
You can season your stainless steel basket with coconut oil to ensure food doesn't stick to it.
To do this, follow these steps;
1) Wash your basket with mild soap and dry properly with a paper towel. Don't dry off all the moisture, however.
2) Set the timer to 5 minutes at around 180°F. Remove the basket after 3 minutes.
3) Apply a thin coat of coconut oil on the basket and any other accessory you want to season, and place the basket in your air fryer for the remaining 2 minutes.
Are Stainless Steel Baskets Dishwasher Safe?
Yes, they are dishwasher safe. Dishwashers use very hot water to clean, and the durability of stainless steel ensures they do not disintegrate or get damaged because of that.
This gives stainless steel baskets an edge over Teflon-coated nonstick baskets, as nonstick baskets may not be able to withstand the heat of the water used in a dishwasher.
You can, however, also wash your stainless steel basket in the sink. This metal is scratch and chemical resistant and is unlikely to be altered no matter how many cleaning products you use. It is an ideal basket if you want something that is tough enough to handle everyday use and everyday scrubbing.
How do I Prevent Food and Grease from Sticking to My Stainless Steel Basket?
Cleaning your stainless steel basket after every use helps a lot to prevent food and grease from sticking to it. If you leave the baskets in the air fryer, as it cools, the food and oil on the baskets will cool too, solidifying them and making them that much harder to remove.
Equally interesting, removing the basket and leaving it in your sink unattended will also result in food and grease sticking as a result of being cooled and hardened. So, cleaning after use is quite important.
Another thing that can be done if you frequently deal with stuck food and grease is to season your basket and other accessories. (For skippers, we've covered how to do this in the answer to the first question.)
Are Stainless Steel Baskets Durable?
These baskets are the most durable baskets you can possibly get for your air fryer. Stainless steel is tarnishing, rust, and stain-resistant which means they will stay in great shape for many years to come. These baskets are also resistant to impacts. You can drop them at a great height without risk of damaging your basket. This metal is also scratch-resistant. You can use any type of cutlery you like in your basket without any risk of damaging the surface of your basket.
Will I Be Able to Find a Replacement Basket?
Your stainless steel basket is not very likely to get damaged any time soon because stainless steel is such a tough tarnish-resistant product. If you invested in a non-stick basket that might be easier to clean you might wonder whether you will be able to find a replacement basket should your current basket become damaged.
The answer is yes, you will be able to find a replacement but it might take a bit of effort to locate the correct size. Air fryers are flexible machines that can be used for making a wide range of foods such as chicken wings, French fries, and onion rings. For some foods, a basket is sufficient for cooking but for other foods, you might want to invest in an alternative type of basket such as a silicone pot for your fryer.
To find a replacement stainless steel basket or air fryer pan, you can simply search for these products and buy them online. These baskets are sometimes sold loosely and you always have the option to invest in more than one type of basket so you can get the most out of your appliance.
Final Words
In all, we advise that you get an air fryer with a stainless steel basket as opposed to one with Teflon because even with the non-stick attributes Teflon offers, a high enough level of heat will cause it to disintegrate and release harmful fumes while simultaneously releasing toxic substances into your food.
Stainless steel based air fryer baskets won't contaminate your food or produce offensive odors under high temperatures. So, to meet your need to eat air-fried foods healthily and also own a durable device, these air fryers we've reviewed are your best bets!