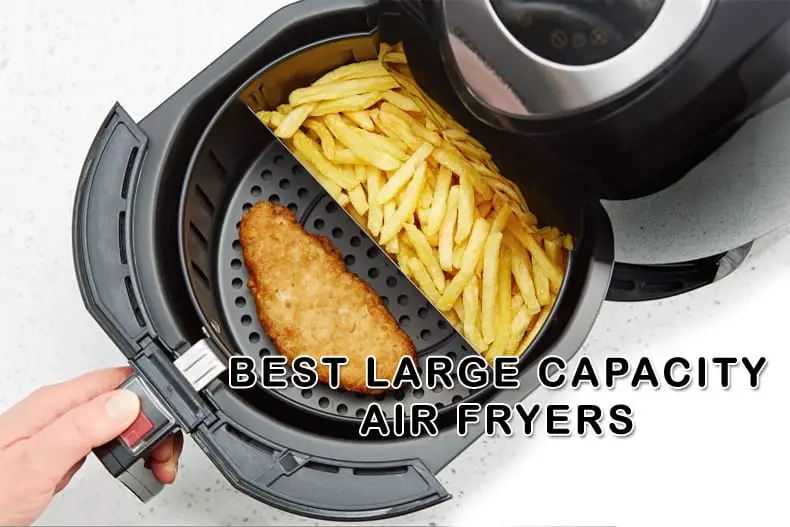 What's better than an air fryer? That's right, a bigger air fryer, as long as you have the counter space. But when you have a large, rambunctious family, you will find that counter space. You would need a big air fryer.
But even if you do not have a big family, getting a large-capacity air fryer is a matter of convenience cooking, as you won't be limited by the cooking space of small air fryers.
Review of 5 Best Large Capacity Air Fryers
For the sake of clarity, we consider large-capacity air fryers as starting from 6qts.
This air fryer comes in different color schemes, and it's a revolutionary technology, Rapid Air Technology, means it can help cook fried foods without all the harmful oils. The air fryer has about 7 presets that help you cook the cheese, fries, meat, etc. Asides from its offering of versatility, the 7-in-1 digital air fryers have an automatic shut off and a circuit detector.
Controlling the air fryer is pretty easy, thanks to the intuitive and easy-to-use controls. The 5.2L size is large enough to get meals done for an entire family, and the design of the fryer is such that it has a nonstick coat that ensures food/oil doesn't stick to it.
Pros
Some customers commended the ease of cleaning of the fryer
Cons
Some customers complained about the loud noise the fryer makes when in use.
The nonstick coating peels off quite easily after use.
Easily fitting a 4-pound chicken is no joke, and the Power XL Pro is certainly not joking around. With 8 preset one-touch buttons and a 7-in-1 multi-cooker, get ready to be wowed by the culinary versatility of this fryer.
The digital timer automatically shuts off, but the interface also gives you a chance to set the timer yourself, should you want to. The 6L size ensures that cooking with this fryer is very effortless.
This air fryer is a 1700W appliance that makes use of Rapid Air Technology to allow you to cook your foot to a healthy crisp, eliminating over 70% of the fat.
Pros
Rapid Air Technology ensures that food is cooked with 360० heat.
Some customers lauded the easy cleanup of the fryer.
The fryer also acts as a multicooker.
Cons
The product only has a 2-month warranty.
Some customers complained of plastic smell but it goes away after some time.
This air fryer has a wide range of customizable temperature settings, from 100०F to 500०F to allow for a greater fit with your recipe. Reheating food is an art with this air fryer, as all you need to do is to click the preset button, and the air fryer will automatically turn on for about four minutes.
The fryer has a 10 qts capacity, ensuring that you'll be able to multi cook effectively. The fryer also has a retractable vent for moisture control. The fryer is ideal for rotisserie and searing, and the touch control panel is quite easy to navigate.
Pros
Quite a number of customers commended the cooking speed of the fryer.
The fryer grills food very well
Cons
Finding a storage space for such a large appliance might prove to be an issue.
This air fryer doesn't take up as much space as it could, owing to its slim design. The touch screen is digital and very easy to use. The manufacturer offers $30 worth of accessories free once you purchase this air fryer, and this makes it a popular choice amongst buyers. The fryer helps eliminate as high as 80% oil from food, leaving you with healthier versions of your favorite foods.
Coming in at 5.8qts, the fryer has enough capacity to cook for about 7 people, and it also comes with 8 preset functions through which you can choose to fry poultry products, or steak, or bacon, just to name a few.
The accessories have a nonstick coating and are very easy to wash, whilst also being dishwasher safe.
Pros
The air fryer is very compact for its capacity.
A lot of customers are pleased by the one year warranty the manufacturers offer on the fryer.
The fryer is ridiculously easy to clean.
Cons
The coating may come off the basket after a while.
This air fryer is one that is very ideal for a party, due to the large 12.7qts capacity that it features. Despite its large capacity, this air fryer doesn't take up much countertop space, mainly because it has about 3 racks that help with efficient cooking.
The fryer also comes with about 10 accessories, with a large number of the accessories pertaining to rotisserie, making it the fryer with one of, if not the widest accessory selection.
The fryer also comes with 15 presets in a show of precise, laser-guided cooking to ensure you cook exactly what you want when you want and how you want it, no margins for error.
Pros
The fryer comes with a recipe book containing 50 whooping recipes made especially for the fryer.
The fryer has a very easy to use one-touch control display.
Cons
Some customers complained about the smell of plastic here too.
What is the Capacity of a Large Air Fryer?
We define a large-capacity air fryer by one that starts at 5.5qts.
Can I Cook Two Different Foods at the Same Time in my Air Fryer?
Generally, yes. But this depends on whether the foods are very different from each other. For example, you can't rotisserie a chicken whilst trying to dehydrate vegetables.
Conclusion & Final Thought
You know the great uses of air fryers already, or you wouldn't be here, reading this article. Getting a large air fryer should be a matter of if you actually need it, not just because you want to own one.
But if you want to be able to cook a lot of people's food at once, then we suggest you get a large-capacity air fryer, as you'll be able to satisfy everyone and not be worked out from the cooking.