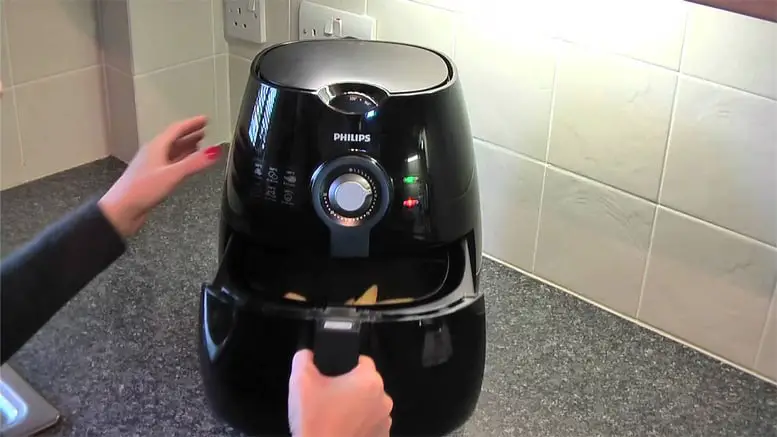 The Philips HD9216 Air Fryer comes across in reviews as a must-have kitchen item.  It is known for being a quick, convenient, and healthy alternative to a traditional oil fryer.

HIGHLY RECOMMENDED!
Philips AirFryer HD9216
With a solid middle-of-the-road price tag and a reputation for turning out restaurant-quality food, it's hard to go wrong with the Philips HD9216 Air Fryer.
Reasonable price
Food gets cooked quickly and evenly
Cool-touch exterior to prevent burns
Philips AirFryer HD9216 Features & Reviews
Philips describes their Rapid Air Technology as a unique way to circulate super-heated air.  They claim that the starfish-shaped basket allows maximum surface area coverage to ensure that your food gets cooked quickly and evenly every time.
The HD9216 Air Fryer boasts an automatic shut-off timer of up to 30 minutes, manual temperature control up to 390 degrees Fahrenheit, a non-stick drawer, a dishwasher-safe basket, and a cool-touch exterior to prevent burns.
This unit is designed to allow you to fry foods with little to no added oil or grease, but Philips states on their official website that you can grill, bake, and roast with it too.
Philips Air Fryer HD9216 Price
starts at a price of $149.00 USD.  This is a pretty reasonable price when you consider that their official suggested retail price is a staggering $229.00 USD.
In comparison, Philips also offers an $149.99 USD model with the HD9220 if you're on a budget.  It may not be as robust and fully-featured, but it is also well-received in reviews.
On the other hand, if you find yourself needing a top-of-the-line air fryer to cook for lots of people, take a look at the Philips HD9650 on the pricier end of the spectrum.  It's a wallet-busting $349.85 on Amazon at the time of this post, but it's their fanciest, XXL-sized fryer that will turn out large batches of food for dinner parties or large families.
When you consider that other brands offer air fryers at nearly identical prices, the Philips brand prices are to be expected.  Cheaper air fryers do exist, but you run the risk of sacrificing quality in return for the lower price.
Ease of Use
Overwhelmingly, reviewers praise this fryer for being easy to use.  Simply put your food into the basket, drizzle it with some oil to lock in moisture during the cooking process, set the temperature and time according to their cooking guide, and you're ready to fry up a mouth-watering dinner.  You will probably need to make more than one batch if you're cooking for your whole family, however.  Users find that the HD9216 will fit about two servings of most foods at a time.
Unfortunately, reviews are a bit more mixed when it comes to clean up.  Everyone seems to love the non-stick drawer and dishwasher-safe basket, but some users complained about certain problem areas being hard to clean.  Specifically, the space behind the heating element, the vent, and the edge of the rack all tend to collect oil buildup over time if you're not careful to wipe them down between every use.
Quality of Food through Philips Airfryer HD9216
"Restaurant quality," "crispy and amazing," and "evenly cooked, every time" are just a few of the phrases that jump out when you read through the reviews of this product.  You have to look pretty hard to find anyone dissatisfied with the food quality from this machine.
One customer mentions that she found the device had a bit of a learning curve. She says that the first few times, her food wasn't as crispy as she was expecting.  Once she got the hang of adjusting the cook time and temperature just right, she managed to find a combination that works well.
Several people advise using a small amount of oil on the food prior to cooking.  On their official website, Philips makes this recommendation as well.  They state that, while no oil is actually required, adding some is often beneficial.  Still, adding a drizzle of oil is a far cry from the oil bath of traditional fryers, so you will still be well within the realm of "healthy cooking."
The variety of food that this appliance can handle is truly impressive.  With the ability to roast, grill, and bake as well as fry, it might be more appropriate to call the HD9216 a multipurpose cooker rather than just an air fryer.  Users report frying pork cracklings, sweet potato fries, and chicken nuggets to perfection, as you might expect.  But what's more surprising is that pizza, sandwiches, cupcakes, pies, and nachos also appear in the list of foods that turn out remarkably well.
Time to Cook in Philips Air Fryer HD9216
The maximum setting for the automatic shut-off timer is 30 minutes.  Philips Airfryer HD9216 Reviews do not indicate that customers think more time is required; there are no complaints of food being mushy or under-cooked.  Keep in mind, you will need to budget cooking time to include multiple batches if you want more than two servings, or if you're cooking foods that need different heat settings (i.e. chicken and vegetables).
Customers seem to agree that the unit heats up very quickly, so there is no need to plan prep time for preheating.
Philips AirFryer HD9216 Common Issues
As with similar air fryers on the market, the HD9216 has a basket release button that is easy to accidentally activate.  Be careful not to drop the basket on yourself or on the floor.  There were several complaints about this inconvenience.
The other commonly mentioned issues are minor.  The fryer is noisy while running, and it takes up a lot of space.  If counter space or cupboard storage is limited in your kitchen, you could have a problem with the large footprint of this Philips fryer.
As mentioned earlier, you will need to be thorough while cleaning the unit, because nooks and crannies accumulate grease and food debris over time.  Due to the heat output of the fryer, any leftover bacteria are unlikely to cause sickness.  It's not really an issue of food safety, more that you may notice a greasy odor after a while.
Final Thoughts about Philips Air Fryer HD9216
Very few reviews indicate any problems with functionality, durability, or build quality.  It seems this appliance is well-made, despite the few small annoyances.  With a solid middle-of-the-road price tag and a reputation for turning out restaurant-quality food, it's hard to go wrong with the Philips HD9216 Air Fryer.