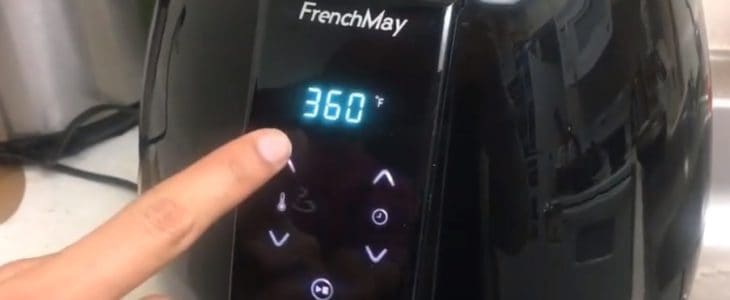 The FrenchMay Touch Control Air Fryer seems to have exploded in popularity.  Like other air fryers, it lets you cook all the delicious, crunchy fried food that you want, without the added calories and fat from the traditional frying process.  But is it a worthwhile investment for your kitchen?  This post dives deeply into the reviews for this product so you don't have to do all the research for yourself.

HIGHLY RECOMMENDED!
FrenchMay Air fryer
Like other air fryers, it lets you cook all the delicious, crunchy fried food that you want, without the added calories and fat from the traditional frying process.
Very easy to use
Comes with recipes and a cookbook
7 pre-set cooking function
Frenchmay Air Fryer Features
FrenchMay's touch control, 3.7 quarts, 1500W model comes with its own cookbook featuring recommended ideas and recipes.  It also features a non-stick, dishwasher safe basket, cool-touch housing to help you avoid burns, and many pre-programmed settings.  FrenchMay advertises that this unit reaches 400 degrees using their Dynamic AirFlow technology, which they claim leads the industry in terms of even, uniform cooking.  This means that instead of submerging your food in a hot oil bath like you would with a traditional fryer, this unit uses hot, circulating air to cook your food to the same crispy, crunchy texture that you would get in a restaurant.
A 60-minute timer with auto-shutoff ensures that you never have to worry about leaving the fryer running by accident.  This feature comes in handy when you consider that the unit is very quiet during operation and may be easy to forget about.
Frenchmay Airfryer Price
At the time of this blog post, the FrenchMay air fryer is available for $89.99 USD.  This price point fits solidly within of the spectrum of other comparable units, which range from $75 USD to $150 USD and feature similar specs. You can also find some best air fryers under $100.
You might be hesitant to spend the cash on a relatively unknown brand, but FrenchMay offers a "100% Satisfaction Guarantee" in the form of a 60 day return policy and a full replacement if your fryer stops working within the first year.
Ease of Use
The FrenchMay air fryer reputedly is very easy to use.  Seven pre-set values for fries, chicken, fish, meat, shrimp, cake, and steak help you adjust the heat and cooking time without too much experimentation.  And because you don't need to submerge the food in any oil, there is very little splatter or mess from the cooking process.
Some users report that fitting and releasing the basket can be a little on the tricky side, perhaps due to a design flaw that puts the release button exactly where the thumb tends to naturally rest on the handle.  One user complained in a review that this resulted in a gouged hardwood floor and a damaged fryer basket from multiple accidental drops.
As far as cleanup, most users agree that it's a simple, quick, and easy process.  FrenchMay advertises that the basket is dishwasher safe, but even when the unit is hand-washed, cleanup takes only a few minutes because there's no messy oil to worry about.
Quality of Food in FrenchMay Air Fryer
Most reviewers have reported that the quality of food produced by this unit rivals major restaurant chains in flavor and crispiness.  Depending on the recipe, you may find that fried chicken and other meats don't get as crispy on the outside as you're expecting.  If that happens, try drizzling your food with oil or butter – not a lot, just a little bit to coat it – before cooking.  The layer of fat should help lock in moisture for a crispy outside and a tender, juicy inside.
FrenchMay Air fryer Recipes & Type of Foods
You can cook anything in an air fryer that you can cook in a regular fryer.  From ribs, steak, hot dogs, and chicken to vegetables, tofu, charred peppers, and breaded avocado bites. There are separate settings for fresh and frozen foods, so it shouldn't matter whether you're cooking breaded catfish from scratch or tossing in some frozen fries for a quick snack.
The air fryer comes with recipes and a cookbook to get you started.  After that point, you're only limited by your imagination.  You can find plenty of additional recipes on cooking sites all over the web.  Just search for air fryer recipes, and you'll be good to go.
Time to Cook in FrenchMay Air fryer
Users report a cook time of 6 to 8 minutes for vegetables, around 10 to 15 minutes for fries, and upwards of 30 minutes or more for chicken and other meats.
You will want to allow time for multiple batches if you're cooking for more than one person.  The fryer may not accommodate enough food to cook everything at once.
FrenchMay Air Fryer Common Issues
Buyers mention several possible issues you may experience with this fryer.  The most common complaint is that the non-stick coating tends to flake or peel off, even when the basket is hand-washed instead of placed in the dishwasher.  This may or may not be covered under the 1-year replacement warranty.  Some customers claim they have been issued a replacement basket, but others say they're just spraying the unit with cooking oil to prevent sticking and that the problem isn't worth worrying about. Your mileage may vary.
Another issue that crops up from time to time is an error code on startup that doesn't appear to have any explanation in the user guide.  Without a troubleshooting guide, this error renders the fryer unusable unless you get a replacement.  It's worth noting that, while this error has happened to more than one customer, it doesn't seem to be a frequent problem.
FrenchMay Air Fryer Customer Service
Bearing in those issues in mind, you might be disappointed to learn that customer service appears to be hit or miss with this company.  Many users were able to contact customer service and have their fryers fixed or replaced with no problem, but several others received sub-par help or no response at all.
Final Thoughts
Taking all of the above points into consideration, the FrenchMay Touch Control Air Fryer is a pretty good deal.  You'll be getting a reasonably-priced unit that produces tasty, healthy food consistently and conveniently if you can deal with the few off-putting quirks.