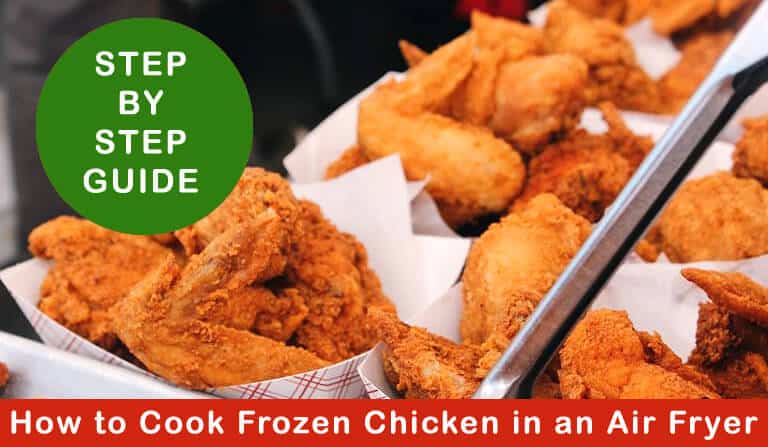 Air fryers are not only great for cooking finger foods. They can be used to cook large cuts of foods such as chicken and turkey breast.
Also, the benefits of using air fryers apply to these larger cuts of food just as they apply to the finger foods.
Cooking with air fryers is a perfect way to enjoy delicious meals without worrying much about oils and saturated fat would do to your health.
The air fryer as a kitchen assistant has come to stay as it affords people the chance to cook whatever they want in a very short time in the healthiest way imaginable.
Why Cook Frozen Chicken in an Air Fryer
There are different good reasons why you should use air fryer to cook your frozen chicken. Ranging from the need to save time to the need to eat healthy.
Cooking chicken in an air fryer takes only 12 minutes. This means in 15 minutes, you could prepare a wonderful meal large enough to feed your entire family. The amount of time it takes to cook frozen chicken with an air fryer is only a fraction of the time it would take to cook the same using a traditional method of frying.
The health benefit is also a great reason to use an air fryer. Cooking frozen chicken allows you to make something tasty without using too much oil. Unlike deep frying that cooks the chicken by passing the heat through a large dose of oil, air fryer simply circulates hot air around the chicken thereby eliminating the use of oil. Air fryer through this process, therefore, reduces your oil consumption by 80%. What you and your family get from this is a delicious meal without all those calories that come with fried foods.
Check out the best air fryer on the market who promises crispy, tasty and healthy food.
Instructions on How to Cook Frozen Chicken in an Air Fryer
As with all frozen foods, the steps involved in cooking frozen chicken strips and chicken tenders are very simple. The chicken is already cut and packaged in a bag. All you need to do is to take them out of the bag and you are ready to cook. If you are cooking perfect frozen chicken in an air fryer then find the some of our recommendations that we have!
Power Air Fryers
Bella Air Fryer
Steps to Follow:-
Adjust the cooking temperature to 390°F and allow to preheat.
Open the bag of frozen chicken and unpack into a container. Spray them with your favorite cooking oil to allow the chicken to cook delicious, crisp and golden-fried.
Spray some of the oil on the cooking basket to prevent the chicken from sticking to the basket.
Load the basket with the frozen chicken.
Return the loaded into the air fryer and allow to cook for 12 minutes.
Conclusion
Cooking frozen chicken in an air fryer is both interesting and exciting. It is usually a very quick healthy meal that can be enjoyed with any dipping sauce of your choice. The cooking process is not a very difficult task and it can be cooked differently and with different recipes. Do not be afraid to experiment as much as you want.
Check out various other air fryer recipes that we have written for you:
How to Cook Frozen Mozzarella Sticks in Air Fryer
How to Cook Frozen French Fries in Air Fryer
How to Cook Frozen Pizza in Air Fryer