Everyone is hopping on the air fryer train and making fancy meals with this miraculous appliance that keeps fats and calories on a low in your favorite fried meals, yet maintaining the crisp feel in them. You are probably the latest one to hop on the train too, and you would love to try out some keto diets to go with your keto program. Even as keto diet calls for few carbohydrates and a lot of fat to maintain the fat-burning ketosis process, you can still air-fry some meals that are high in protein. Here are some of the best air fryer recipes you can try.
1. Keto Air-fried Chicken
For chicken lovers, air-fried chicken on a keto diet comes in handy when you want an easy, quick meal with the same crisp as deep-fried one. Only in this case you skip all the oil but still get a high-protein meal that leaves your taste buds yearning for more.
With chicken as the main ingredient, this meal is low on carbs and has a keto-friendly breading option when you use almond flour and Parmesan cheese.
Ingredients
Chicken
1 Ib boneless chicken thigh, skin removed
1 tablespoon seasoning of your own liking
Egg Mash
2 eggs
1/4 cup heavy whipping cream
Breading
1 tablespoon seasoning of your liking
I cup almond flour
1/2 cup grated Parmesan cheese
Instructions
Place the chicken thighs in a large bowl and rub with the seasoning you selected
Mix parmesan cheese, seasoning selected, and almond flour in another bowl
Mix the eggs and cream in another bowl
Dip each chicken thigh in the egg-cream mash and immediately cover them with the almond flour breading mix
Spray the breaded thighs with cooking spray and place in an air fryer basket in batches as they fit in the basket
Cook for 20 minutes at 350° Fahrenheit till the breading turns golden and the internal temperature hits 165° Fahrenheit.
Remove from the air fryer and let cool before serving.
Notes
The egg-cream mash should not be a bother since even if you dip the chicken into it, only very little of it is used. The rest is left. For a more crisp feel, you can place the chicken in a refrigerator for about one immediately after breading and before cooking. The meal serves 4 (1/4 Ib chicken per person).
Alternative Recipe
You can also make keto-friendly air-fried chicken using crushed pork rinds. To fine tune the pork rinds for "breading" chicken, crush them some more in a food processor.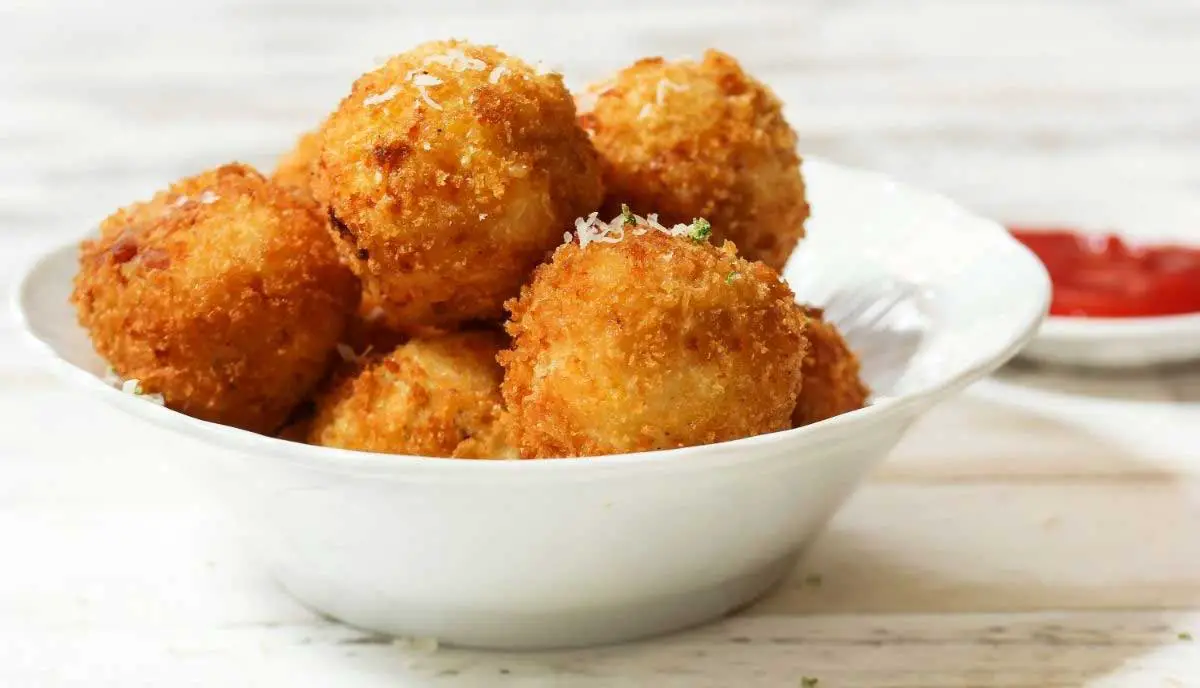 2. Keto Air Fryer Cheese Balls
These cheese balls are a good bet for dinner. Eat them up in two bites of each with the characteristic texture similar to that of the usual bread roll.
The main ingredient is cheese, which has to be melted first using the simmering procedure outlined below in the instructions section. Do not melt the cheese on direct heat so as to preserve its quality.
Ingredients
2/3 cup almond flour
1 tablespoon garlic powder, in 2 equal batches
2 tablespoon parmesan cheese, grated
1, 8-oz bag/2cups shredded mozzarella cheese
Cooking spray
Sea salt
Black pepper, freshly ground
1/2 tablespoon dried Italian herb mix
Instructions
Place a piece of parchment paper in the air fryer basket and spray with some cooking spray
Simmer some water in a small pot
Place a heatproof bowl over the simmering water in the medium pot such that the bowl rests on top of the pot without its bottom touching the water. Mix the almond flour, 1/2 tablespoon salt, mozzarella cheese, and 3/4 teaspoon garlic powder in the bowl. Stir thoroughly for about 6 minutes until the cheese melts and a damp dough forms.
Scoop out the dough and place on a chopping board. Leave it for 4 to 5 minutes to cool well for handling. Knead the dough into a ball and then cut it into 6 same-size cuttings. Roll each cutting into a smooth, regular ball.
Whisk the dried herbs, parmesan cheese, 1/4 teaspoon pepper, and 1/4 teaspoon garlic powder in a bowl
Dip the balls in turns in the cheese-herb mixture and then place them into the air fryer basket.
Set the air fryer to 400°Fahrenheit and bake for 8 minutes till they turn golden brown.
Allow to cool for 4 minutes before serving.
Notes
This recipe produces 6 cheese balls that can serve 6 people at once. To serve 12 people at the same rate, double the amounts of almond flour, garlic powder, Italian herb mix, and grated parmesan cheese.
Side Dish
You can serve these cheese balls with marinara sauce or a homemade ranch dip.

3. Keto Air fryer Coconut Shrimp
This coconut crust shrimp dish will be a favorite for your family or guests given its golden brown appeal and crisp feel with the low carb requirement for keto diet. Shrimp lovers are welcome to try this recipe out any day.
Ingredients
1 Ib bag of large, peeled and deveined raw shrimp
3 tablespoons coconut flour
1/2 teaspoon black pepper
1 teaspoon salt
2 eggs
1 teaspoon garlic powder
2 tablespoons pork rind crumbs
1/3 cup shredded coconut, unsweetened
Olive oil spray
1 or 2 tablespoons keto granular sweetener
1/4 cup parmesan cheese, shredded
Instructions
Rinse the shrimp and place in a bowl.
Mix the coconut flour, garlic powder, salt, pork rind crumbs, and pepper in a bowl
Mix the keto granular sweetener, shredded coconut, and shredded parmesan cheese in another bowl
Whisk the eggs in another bowl or shallow plate
Dip the shrimp in the flour mix to coat both sides. Dip the now coated shrimp in the whisked eggs then dip in the shredded coconut mix. Put the now fully coated shrimp on a chopping board. Repeat this procedure to bread all the shrimps.
Place the shrimp in the air fryer basket, leaving spaces in between them. Spray some olive oil on top and cook at 320° Fahrenheit for 15 minutes. Repeat this procedure to cook all the remaining shrimp.
Leave to cool for 3-4 minutes before serving.
Notes
The keto granular sweetener is for adding some sweetness to the shrimp. Some people may prefer to use it at minimal levels lower than 1 tablespoon.
Side Dish
Keto coconut shrimp goes well with a keto cocktail sauce or marinara sauce. You can make a simple cocktail sauce using 1 teaspoon horseradish and 1/4 cup sugar-free keto ketchup by beating the two together in an emulsion blender.
4. Keto Air Fryer Scotch Eggs
Before the name scotch throws you off-balance, let's explain the idea behind it. Scotch eggs have their origin in London. The name doesn't come from them being Scottish. It stems from the process of mincing sausage, which is known as scotching.
This is an alternative method to make your favorite egg and sausage meals with a hint of keto. They can be taken at breakfast, dinner, or any time in between as a quick snack.
Ingredients
7-8 medium-size eggs
1 tablespoon dried onion flakes
1 pound ground sausage
1/3 cup grated parmesan cheese
2 teaspoons ground sage.
Instructions
Put the eggs into the air fryer on egg insert and cook at 260° Fahrenheit for 16 minutes.
Remove the eggs from the fryer and rinse in cold water to make it easy to peel the hard-boiled eggs
Mix the sausage, parmesan cheese, and onion flakes in a bowl
Divide the sausage mix into 7-8 equal balls. Flatten the balls singly with your palm and place one cooked egg in the middle of each. Pull the sausage mix over the eggs to completely cover them.
Spray the air fryer with a little oil and place the eggs inside without crowding.
Set the temperature to 390° Fahrenheit to cook for 11 minutes.
Take the cooked eggs out, allow to cool for 2-4 minutes before cutting each into two to serve.
Notes
Sausage comes with several flavors on its own but you can still season it with fresh herbs for an authentic personal preference.
The eggs can be hard-boiled by other means such as Instant Pot or stove. This choice depends on your personal preferences and the functional kitchen appliances you have available.
Oversize eggs may not be suitable for this procedure, unless you use fewer of them. For large eggs, use 5-6 for the best results.
Drink Pairing
Scotch eggs are a good combination with coffee or tea for breakfast to give you an energy-filled day and an alert mind. Taking them with coffee is not so good close to bedtime since it is recommended that you should cease taking high amounts of caffeine at least six hours before bedtime if you are to enjoy continuous, uninterrupted sleep.
Wrapping Up
Any time you run out of ideas for the best air fryer meals, you can always refer to our 999-recipe air fryer cookbook for simple-to-prepare food that will leave your taste buds tantalized each time. With a little change of ingredients, it is possible to make keto air fryer recipes in line with your much-loved keto program.